Cut the noise, keep the sound
When you're working from home or in a virtual office, it's not always possible to use your computer's speakers and microphone for calls. A busy home can make for a noisy workplace, so a headset is often the way to go when working remotely. Traditionally, although headsets provide privacy, they have often been lacking in terms of audio quality and if you wanted to do anything else, watch a training video or listen to music whilst you work from home, for example, they weren't really suitable.
There was also a situation where the lag from wireless headsets meant that, for video calling at least, you had to go wired. That has changed though, people now want hi-fi quality audio from their computers and smartphones and the device makers have stepped up to the mark with headsets that, through the latest Bluetooth codecs, provide top audio and low lag (or latency).
In this blog we'll take a look at four such headsets – two high end and two at the more affordable end of the market. We have not taken a look at device dependent headsets like the Apple Airpods Max – the devices reviewed should work on any platform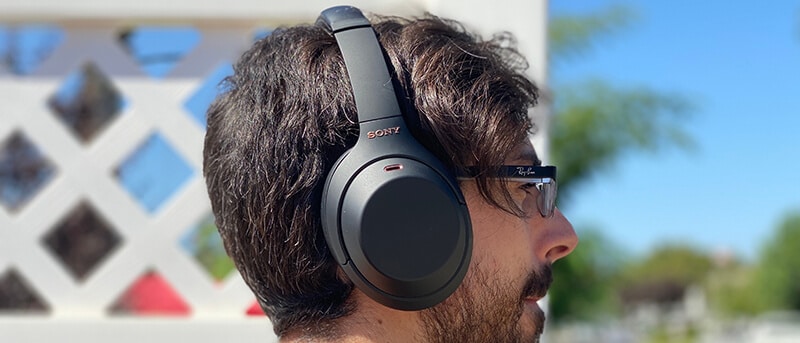 Until the upgraded XM5s reach these shores, the XM4s from Sony are the top of the range in both quality, features and price. Audio quality is extraordinary and can be easily manipulated, voice quality is acceptable, noise cancelling is best in class, they are comfortable to wear and feature a number of tricks that really do add value. You can set them up through their app so that if they detect someone speaking to you or you start speaking, they cut the music and turn off the noise cancelling. Very handy when working from home! They charge using USB-C and offer over 30 hours of battery life (claiming 38 hours with noise cancellation turned off).
They also offer multipoint Bluetooth connection. – you can connect to two devices at once, say your phone and your desktop, an incredibly useful feature. These features doesn't come cheap though and at between €350 and €390 (depending on special offers) they are at the high end of the market. They also don't offer any water resistance, so don't use them in the rain or for a heavy session at the gym. I personally use these headphones when I'm working from home in Dublin and I can personally recommend them
Bose QuietComfort 45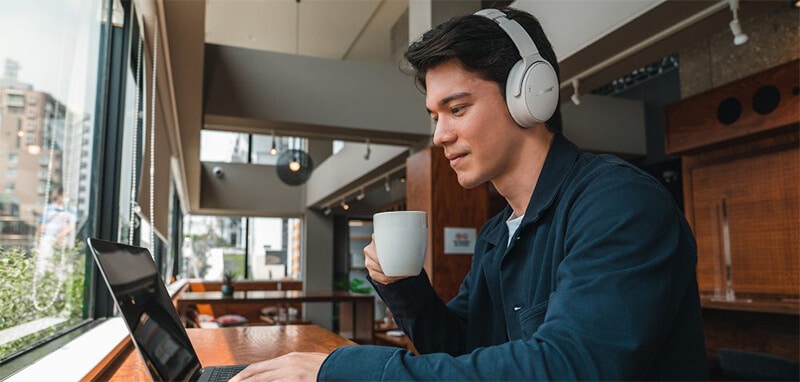 Bose pioneered noise cancellation in consumer headphones, and their venerable QuietComfort line has been around since 2000 – a lifetime in consumer electronics. The latest iteration offers noise cancellation (of course), ambient sound awareness – useful when working from home or in a virtual office, app control and are the most comfortable headphones on the market (at least this writer thinks so!). Sound quality is very good, though the sound quality of Bose headphones has been criticised, not for the actual quality, but rather for the way Bose shapes its soundstage. If you like the 'Bose sound' you'll love these, if not – they aren't as configurable sound-wise as others.
They offer USB-C charging, and although their battery life at 25 hours is less than the WMX4s, they have a quick charge feature that gives 3 hours of use from 15 minutes of charging. They can be controlled by their app (though there have been concerns in the past about Bose and privacy) They are also quite pricey though, generally available around the €350 mark.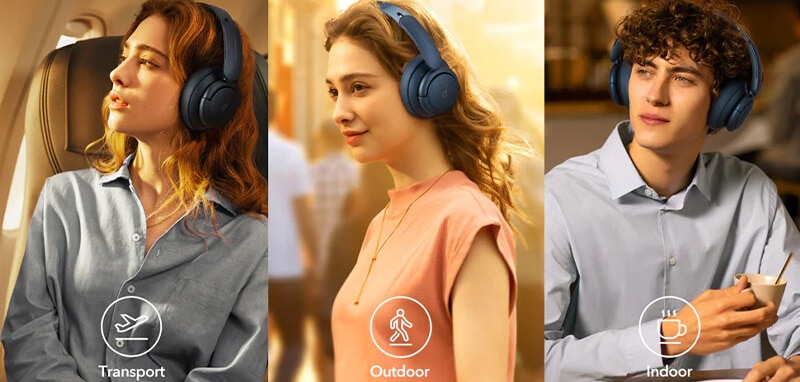 Anker are a Chinese brand known for their computer accessories, particularly hubs and powerbanks and have garnered a reputation for quality at a reasonable price. Their audio division is branded Soundcore and it is from them that these headphones emerge. They offer noise cancelling, app control, a long battery life, USB-C charging and multipoint connection. Audio quality is good, but for the best return, use the app to shape the sound to your tastes as they are quite bass heavy out of the box. Noise cancellation is not quite as good as their rivals from Bose or Sony, but considering these are less than half their price, the quality certainly isn't half as good, its far better than that.
They also offer a number of Noise Cancellation levels and modes, including the very useful Transparency mode – which is kind of the opposite of noise cancellation, they actually pipe outside noise into the headphones overlaying whatever you are listening to so you can be aware of your surroundings – useful on Dublin city streets or when working in a virtual office or working from from home and you need to keep an ear out for what's happening. This writer keeps a pair of their predecessors the Q30s in his laptop bag for everyday use while commuting and they are, all things considered, his favourite headphones. The Q35s are available at the €150 price point – and the Q30s can be had for as little as €90, quite a bargain considering the only difference is that the newer models offer Sony's proprietary LDAC hi-fi audio codec.
Plantronics BACKBEAT GO 810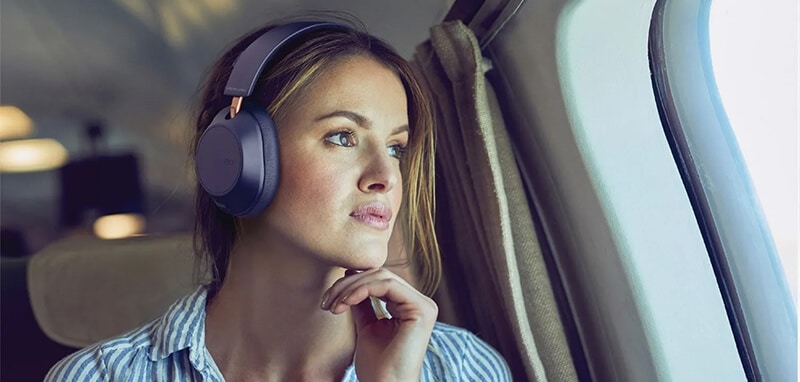 Plantronics are one of the market leaders in phone headsets and their products in the headphone space are highly regarded though under marketed. The Backbeat Go headphones offer reasonable noise cancelling and good audio quality. Battery life is good at 22 hours and they quick charge to 3 hours of use time in 10 – however they are charged via the by now outdated USB micro cable. They support multipoint connection and provide a rock solid Bluetooth link. The are available from as little as €53 – and at that price they provide truly excellent value and are a great way to start your setup for working from home.
It should also be noted that all the headphones reviewed can be connected via cable to your device.
Sky Business Centres are located in Dublin, close to Dublin city centre and offer Serviced office and Virtual office packages to make remote working easy, helping your employees stay safe and productive. We have four different Virtual Office packages available which can be tailored to your specific needs with mail handling, call answering and a Business Address in Ireland. Our serviced offices are located in Clontarf, Blanchardstown and Clonshaugh and cater to enterprises of any size, from startups to established companies needing more space.
View our Virtual Office Dublin packages